Tacos are a popular Mexican dish that is loved by millions worldwide. However, making tacos can be time-consuming, especially when it comes to preparing the meat. One of the best ways to prepare taco meat is by slow cooking it in a crockpot. This method makes the meat incredibly tender, juicy, and flavorful, making it perfect for shredded chicken tacos. In this blog post, we will share a simple crockpot shredded chicken tacos recipe that is sure to impress your family and friends.
To make crockpot shredded chicken tacos, you will need the following ingredients:
Ingredients:
2 lbs of boneless, skinless chicken breasts
1 large onion, diced
1 tablespoon of minced garlic
1 tablespoon of chili powder
1 tablespoon of cumin
1 teaspoon of smoked paprika
1 teaspoon of salt
1/2 teaspoon of black pepper
1 can of diced tomatoes with green chilies
1/2 cup of chicken broth
Optional toppings:
Shredded lettuce
Diced tomatoes
Shredded cheese
Sour cream
Guacamole
Salsa
Instructions:
Step 1: In a small bowl, mix together the chili powder, cumin, smoked paprika, salt, and black pepper.
Step 2: Place the chicken breasts in the crockpot and sprinkle the spice mixture over the chicken, making sure to coat both sides.
Step 3: Add the diced onion and minced garlic to the crockpot.
Step 4: Pour the can of diced tomatoes with green chilies and chicken broth over the chicken and onion.
Step 5: Stir the ingredients in the crockpot to ensure that the chicken is evenly coated with the spices and tomato mixture.
Step 6: Cover the crockpot and cook on low heat for 6-8 hours or on high heat for 3-4 hours. The chicken is ready when it is tender enough to be shredded with a fork.
Step 7: Once the chicken is fully cooked, remove it from the crockpot and shred it with a fork.
Step 8: Return the shredded chicken to the crockpot and mix it with the remaining sauce.
Step 9: Serve the shredded chicken on warm tortillas with your favorite toppings.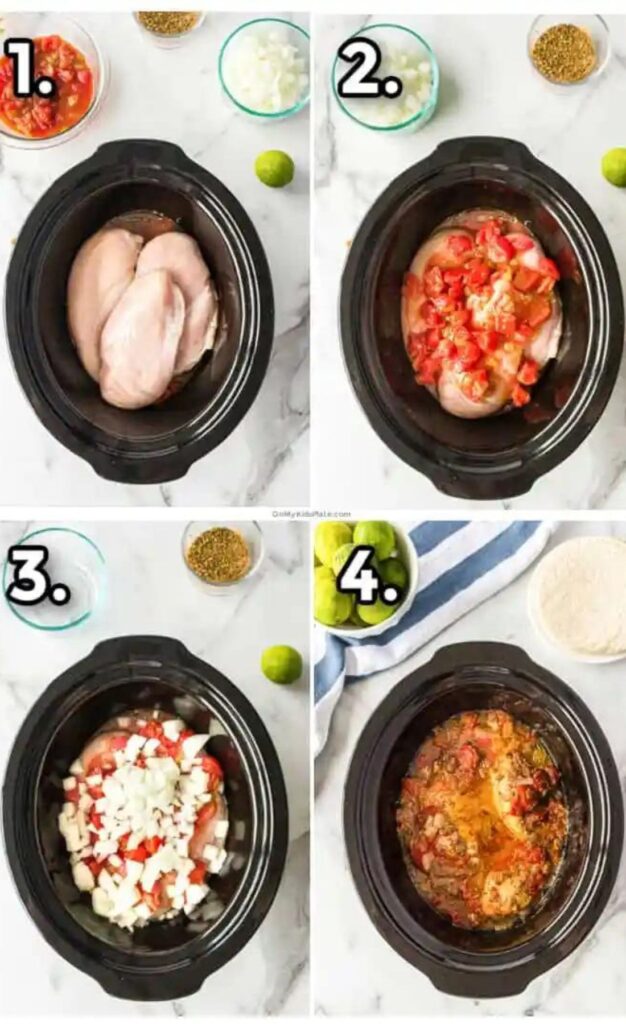 Tips for Perfect Crockpot Shredded Chicken Tacos:
Use boneless, skinless chicken breasts for the best results. They are lean and have a neutral flavor that is perfect for tacos.
Be sure to coat the chicken evenly with the spice mixture to ensure that the flavors are well-distributed.
If you like your tacos spicy, you can add a pinch of cayenne pepper to the spice mixture.
You can adjust the cooking time based on the thickness of the chicken breasts. Thicker chicken breasts may require additional cooking time.
To save time, you can prepare the spice mixture and diced onion the night before and store them in the fridge. This will make the morning prep faster.
Now that we have gone through the steps for making crockpot shredded chicken tacos, let's dive into some tips and tricks to make your tacos stand out and be even more delicious!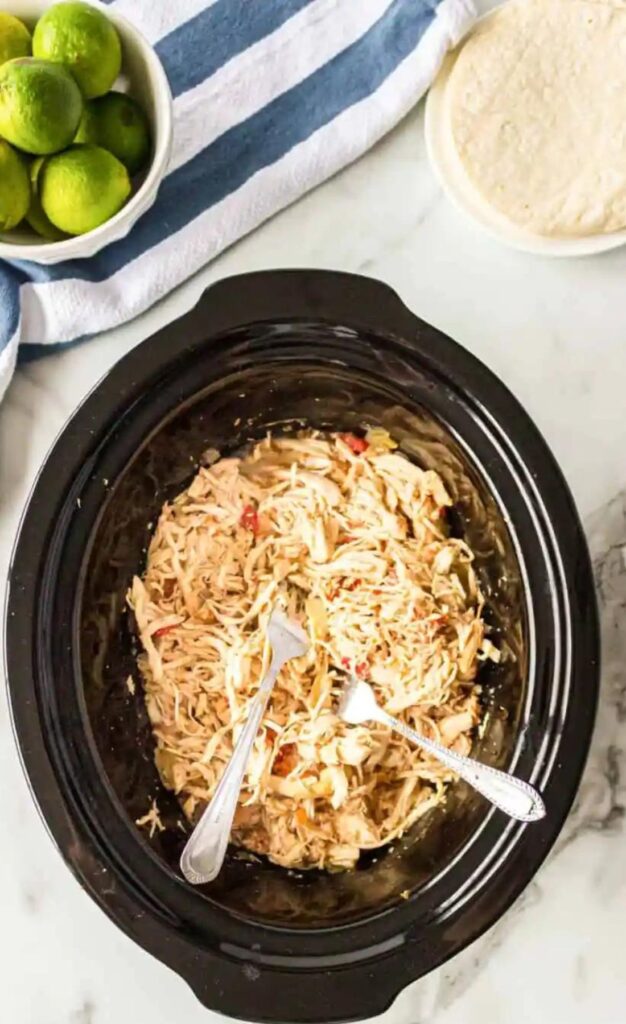 Choose the Right Tortillas:
Choosing the right tortillas is key to making perfect tacos. We recommend using soft corn tortillas as they are more traditional and have a more authentic flavor. They are also gluten-free, which is perfect for those with gluten sensitivities or allergies. If you prefer flour tortillas, go ahead and use those instead. Just be sure to heat them up before serving.
Add Some Fresh Toppings:
Toppings can really make or break your tacos. Adding fresh toppings like shredded lettuce, diced tomatoes, and cilantro can add a nice crunch and a burst of fresh flavor. You can also add some sliced avocado or guacamole, which adds creaminess and richness to the tacos. Don't forget to serve some lime wedges on the side to add some zing!
Don't Skimp on the Cheese:
Adding shredded cheese is a must for any taco recipe, and crockpot shredded chicken tacos are no exception. We recommend using a Mexican cheese blend, which typically includes a combination of cheddar, Monterey Jack, and Colby cheese. It melts perfectly and adds a delicious savory flavor that pairs perfectly with the chicken.
Make Your Own Salsa:
While store-bought salsa is convenient, making your own salsa is easy and adds a ton of flavor to your tacos. Simply chop up some tomatoes, onions, jalapeños, and cilantro and mix them together in a bowl. Add some salt and lime juice to taste, and you're done! If you want to add a smoky flavor to your salsa, you can also roast the vegetables in the oven or on the stovetop before chopping them up.
Serve with a Side of Beans and Rice:
For a complete meal, serve your crockpot shredded chicken tacos with a side of beans and rice. You can use canned black beans or pinto beans and cook them on the stovetop with some garlic, onion, and spices. For the rice, you can use white or brown rice and cook it with some chicken broth and spices for added flavor.
Crockpot shredded chicken tacos are a delicious and easy meal that can be enjoyed any time of the year. The slow-cooking method ensures that the chicken is tender and juicy, and the spices add a bold flavor that pairs perfectly with the toppings. Whether you're cooking for a crowd or just your family, this recipe is sure to impress. So give it a try, and enjoy a restaurant-quality meal from the comfort of your own home.