Lasagna is a beloved Italian dish that has been enjoyed for generations. It is a hearty meal made with layers of pasta, cheese, and sauce, and is a staple at family gatherings and dinner parties. In this blog post, we will provide you with a detailed lasagna recipe that will leave your taste buds singing. From the rich tomato sauce to the creamy layers of cheese, this recipe is sure to be a crowd-pleaser.
Ingredients:
The first step to making a delicious lasagna recipe is to gather all of the necessary ingredients. For this recipe, you will need:
1 pound of ground beef
1 onion, diced
2 cloves of garlic, minced
1 28-ounce can of crushed tomatoes
1 6-ounce can of tomato paste
1 tablespoon of sugar
1 teaspoon of salt
1 teaspoon of dried basil
1 teaspoon of dried oregano
12 lasagna noodles
16 ounces of ricotta cheese
1 egg
1/4 cup of fresh parsley, chopped
1/2 cup of grated Parmesan cheese
4 cups of shredded mozzarella cheese
Instructions:
Preheat your oven to 375 degrees Fahrenheit.
In a large skillet, cook the ground beef over medium heat until it is browned. Add the diced onion and minced garlic and continue to cook until the onion is translucent.
Add the crushed tomatoes, tomato paste, sugar, salt, basil, and oregano to the skillet. Stir well and let simmer for 15-20 minutes.
While the sauce is simmering, cook the lasagna noodles according to the package instructions. Drain and set aside.
In a separate bowl, mix together the ricotta cheese, egg, parsley, and grated Parmesan cheese.
To assemble the lasagna, start by spreading a thin layer of the tomato sauce on the bottom of a 9×13 inch baking dish. Place three of the cooked lasagna noodles on top of the sauce. Spread a layer of the ricotta cheese mixture on top of the noodles, followed by a layer of shredded mozzarella cheese. Repeat these layers until all of the ingredients are used up, making sure to end with a layer of mozzarella cheese on top.
Cover the baking dish with aluminum foil and bake for 25 minutes. Remove the foil and continue to bake for an additional 25 minutes, or until the cheese is golden brown and bubbly.
Remove the lasagna from the oven and let it cool for 10-15 minutes before slicing and serving.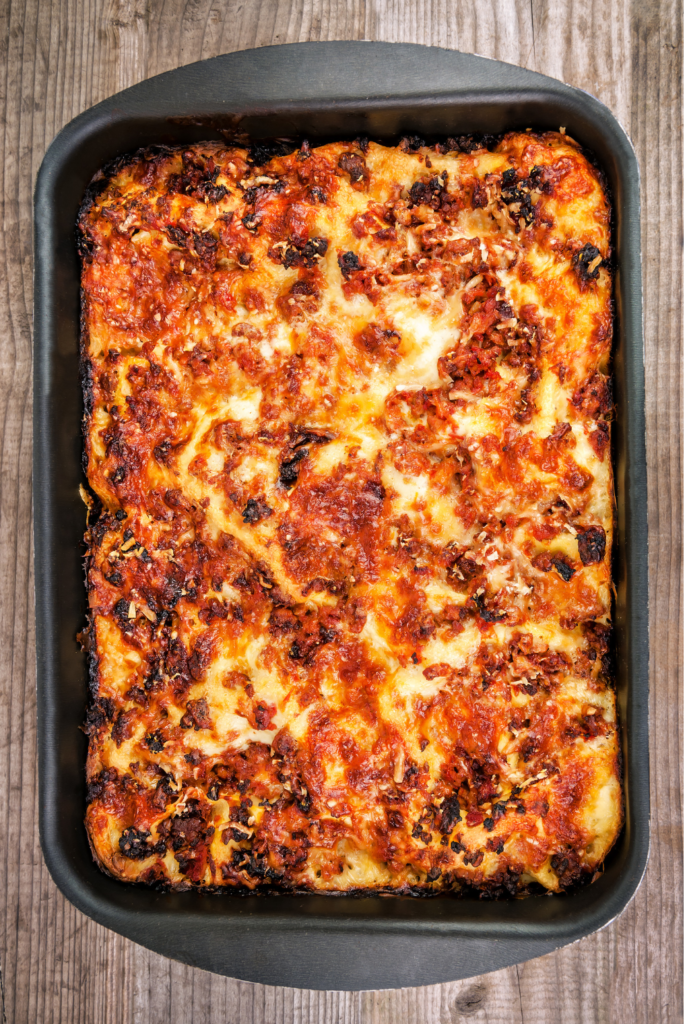 Tips and Tricks:
Don't overcook the lasagna noodles. They should be slightly undercooked when you assemble the lasagna, as they will continue to cook in the oven.
Make sure to spread the layers evenly to ensure that each bite has the perfect balance of sauce, cheese, and pasta.
For a vegetarian option, replace the ground beef with a meat substitute or add additional vegetables, such as mushrooms or bell peppers.
This lasagna can be made ahead of time and stored in the refrigerator or freezer for later use. Simply reheat in the oven before serving.
Conclusion:
In conclusion, this lasagna recipe is a classic dish that is perfect for any occasion. From the rich and flavorful tomato sauce to the creamy layers of cheese, this recipe is sure to be a hit with your family and friends. By following our step-by-step instructions and using high-quality ingredients, you can create a lasagna that is both delicious and impressive. So why not give it a try and see for yourself how easy it is to make this beloved Italian dish at home?
Meatloaf Recipe with Bread Crumbs: Meatloaf is a classic comfort food that has been enjoyed by families for generations. This dish is easy to make and can be customized to your liking, making it the perfect meal for any occasion. One of the key ingredients in a traditional meatloaf recipe is bread crumbs. In this post, we will take a closer look at how to make a meatloaf recipe with bread crumbs that is both delicious and easy to make.
Grandma Marr's Banana Blueberry Bread Recipe: Baking is an art form that has been passed down from generation to generation, and one of the most cherished family recipes is Grandma Marr's Banana Blueberry Bread. This recipe is not only delicious but also healthy, with the natural sweetness of bananas and the antioxidants and fiber of blueberries. In this blog post, we'll explore the history of this recipe, its ingredients and nutritional benefits, and the step-by-step process to make it.