Cabbage rolls are a classic dish that has been enjoyed for generations. They are hearty, satisfying, and packed with flavor. This dish is perfect for any occasion, whether you're feeding a large family or having a cozy night in. In this article, we'll provide you with a step-by-step guide on how to make cabbage rolls and share some tips and tricks to make them even more delicious.
Ingredients:
To make cabbage rolls, you'll need the following ingredients:
For the filling:
1 pound ground beef
1 cup cooked rice
1 onion, chopped
2 cloves garlic, minced
1 teaspoon salt
1/2 teaspoon black pepper
1 egg
1 tablespoon chopped fresh parsley
For the sauce:
2 cans (14.5 ounces each) crushed tomatoes
1 tablespoon sugar
1 tablespoon lemon juice
1/2 teaspoon salt
For the cabbage rolls:
1 large head of cabbage
1 cup chicken broth
2 tablespoons butter
Instructions:
Preheat your oven to 350°F (180°C).
Start by preparing the filling. In a large mixing bowl, combine the ground beef, cooked rice, chopped onion, minced garlic, salt, black pepper, egg, and chopped fresh parsley. Mix everything together until well combined.
Remove the core from the head of cabbage and place the whole cabbage in a large pot of boiling water. Boil the cabbage for about 10 minutes until the leaves are soft and pliable.
Remove the cabbage from the pot and carefully peel off each leaf. Trim the thick stem from each leaf with a knife so that it's easier to roll.
Take a cabbage leaf and place about 1/4 cup of the filling in the center of the leaf. Roll the leaf up, tucking in the sides as you go. Repeat with the remaining leaves and filling.
In a large baking dish, mix together the crushed tomatoes, sugar, lemon juice, and salt to make the sauce.
Arrange the cabbage rolls in the baking dish, seam-side down. Pour the chicken broth over the rolls and dot the butter on top.
Cover the baking dish with foil and bake in the preheated oven for 1 hour.
After 1 hour, remove the foil and continue to bake the cabbage rolls for an additional 30 minutes until the tops are golden brown and the sauce is bubbly.
Once the cabbage rolls are done, remove them from the oven and let them cool for a few minutes before serving.
Tips and Tricks:
You can substitute ground beef with ground pork, turkey, or chicken.
If you're short on time, you can use canned cabbage instead of boiling a whole head of cabbage.
You can also make the cabbage rolls ahead of time and store them in the refrigerator or freezer until ready to bake.
For extra flavor, add some diced tomatoes, chopped bell peppers, or shredded carrots to the filling.
To make the sauce spicier, add some red pepper flakes or hot sauce.
Nutritional Information:
Cabbage rolls are a nutritious meal that provides a balanced combination of protein, carbohydrates, and healthy fats. Here's the nutritional information for one serving (2 cabbage rolls):
Calories: 392
Fat: 15g
Carbohydrates: 36g
Protein: 29g
Fiber: 5g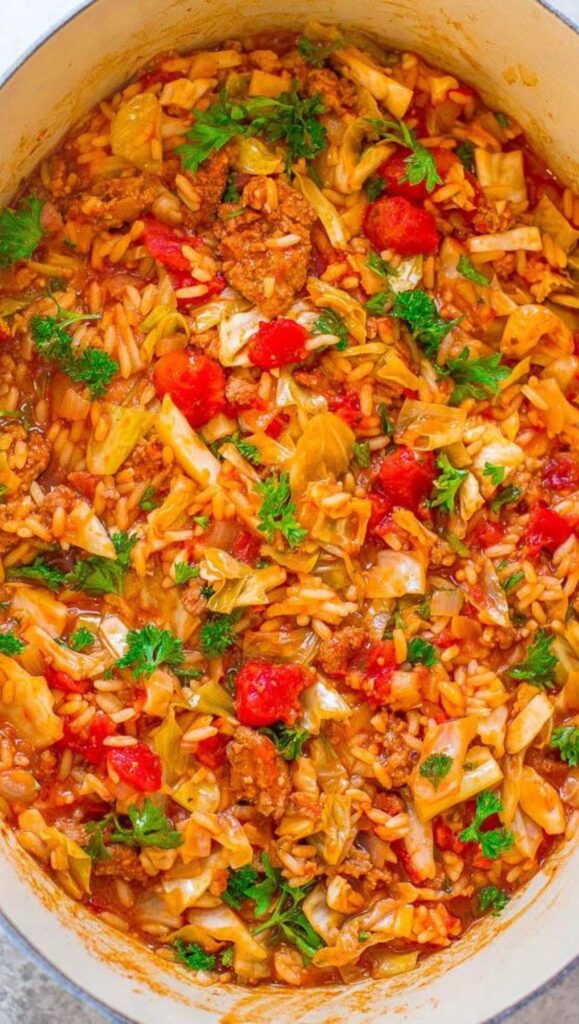 One of the best things about cabbage rolls is that they're a complete meal all in one package. With protein from the ground beef and carbohydrates from the rice, they're filling and satisfying. The addition of cabbage adds fiber, vitamins, and minerals, making this dish a great choice for those looking to incorporate more vegetables into their diet.
When it comes to serving cabbage rolls, they can be enjoyed on their own as a main dish, or served with a side of crusty bread, mashed potatoes, or a green salad. Leftovers can be stored in the refrigerator for up to three days, or frozen for longer storage.
If you're looking to switch up the flavors in your cabbage rolls, there are plenty of variations to try. For example, you can substitute the ground beef with ground pork or turkey, or even use vegetarian meat alternatives. You can also experiment with different herbs and spices, such as adding paprika or cumin to the filling for a smoky flavor.
When it comes to making cabbage rolls, one of the most important steps is boiling the cabbage. This softens the leaves and makes them pliable enough to roll. It's important to not overcook the cabbage, as this can make it too soft and difficult to roll. Keep an eye on the cabbage as it boils, and remove it from the pot as soon as the leaves are tender.
Another important step is to make sure that the rolls are tightly packed and sealed, to prevent the filling from falling out during baking. To do this, start by placing the filling in the center of the cabbage leaf, then fold in the sides and roll the leaf up tightly.
In conclusion, cabbage rolls are a classic dish that is easy to make, delicious, and nutritious. With a few simple ingredients and some basic cooking techniques, you can create a flavorful and satisfying meal that is perfect for any occasion. Whether you're a seasoned cook or a beginner, this recipe is sure to become a staple in your kitchen.